Guest post by Sam Willis, a contributor to Innovative Building Materials.
While building a custom home is sure to be a family's dream come true, it is a process with the potential to cause massive headaches for many people along the way. Designers, builders, and material suppliers must all communicate at the highest level to ensure that a quality design stays on schedule and under budget. To ease the burden of this complex process, consider the following ways that Envisioneer BIM software by Cadsoft can aid in designing a custom home.
Explore a Multitude of Design Concepts
The first place to start when designing a custom home is to decide what type of design concept you want to employ. Architects use several iterations, with certain home designs preferable based on climate, projected use, and owner taste. In addition, each design will have specific labor and material requirements that will help guide the build.
Some popular home concepts are colonial, craftsman, farmhouse, modern, and ranch. Cadsoft has many design examples in their BIM software, allowing builders to see the nuts and bolts of their custom home.
Compare Different Types of Building Materials
One of the most powerful benefits of using software to design a custom house is the efficient comparison of different types of building materials. For example, a specific metal plank siding design may look stunning in isolation, but it is hard to know how it meshes with the home before installation. Innovative BIM software allows builders to quickly switch out materials and update computer models, making it easier to pinpoint the ideal option for any material combination.
More Accurately Estimate Project Costs

Without the use of software, custom homes are at significant risk of scope creep or the insidious buildup of unexpected costs as construction unfolds. By using BIM software, construction professionals can better account and plan for changes in the project and how they may influence the final cost of the build. For instance, when it comes to installing the finishing touches on a custom home, such as laying the flooring and adding the countertops, designers can plug different materials, such as faux wood flooring options or engineered quartz countertops, into the software and see how the cost is affected versus using traditional solid hardwood or natural stone products.
Reduce Time to Completion
Going over budget can be crippling to a construction company, so too can missing construction deadlines. When a project takes longer than scheduled, the company is missing out on revenue by not starting work on subsequent builds.
However, it can be exceedingly difficult to remain on schedule when a construction site uses a complex network of contractors and subcontractors to get work done. Construction can stall as various parties wait around for work orders, approvals, and lien waivers.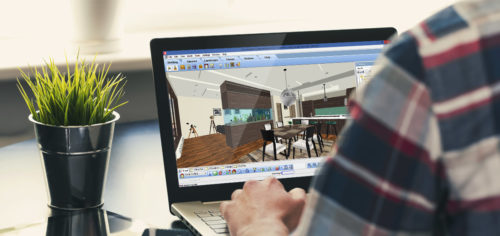 By choosing Envisioneer by Cadsoft, construction professionals have an integrated framework for centralizing important construction documents and automating tedious managerial tasks. All parties associated with the project can quickly access, view, upload, and edit construction paperwork, allowing for instantaneous communication to help avoid time-consuming delays.
Provide a Platform for Material Delivery
Nothing is more frustrating than being at the construction site and running out of building materials or having a pile of unused material. Whether you are running short on barrel tile roofing or have polyiso insulation panels that will not fit your framing, material issues can slow down a custom home build.
Envisioneer software provides a powerful solution to these problems, linking LBM supplier's data from the takeoff to point-of-sale (POS) systems for on-demand delivery of the perfect building materials. Among the ways that Envisioneer software can help LBM suppliers add efficiency to the material delivery process include:
Visuals for framing components so that suppliers know exactly how much of a material they need to ship
An easy-to-use visual takeoff tool that makes creating material lists fast and easy
Wall panel diagrams, foundation and joist layout plans, automated working drawings, VR experiences, and photorealistic rendering to check accuracy in the material delivery process
Add Personal Touches
Although building a custom home implies that you will be creating a space unique from other new builds in the area, a home is not truly custom until you add your family's unique personality. To this effect, one of the most powerful features of BIM software is its virtual reality capabilities.
By taking a virtual tour of what a finished custom home may look like, buyers can feel what it will be like in the house and explore ways to design the space to make it uniquely theirs. Whether you have been exploring stone veneer fireplace ideas for the living room, adding a coffee cart to the kitchen, or finding the perfect location to hang your statement art piece, the high-quality renderings and VR capabilities of Envisioneer software can help you solidify where to place those personal touches.
Use Envisioneer BIM Software by Cadsoft to Design Your Custom Home
Designing a custom home is a complex process that can cause many headaches along the way. By choosing Envisioneer BIM software by Cadsoft, builders can explore multiple design concepts, compare different types of building materials, accurately estimate project costs, reduce time to completion, ensure a platform for material delivery, and allow for personal touches–all important considerations for ensuring that the custom home design is executed on time and under budget.
Sam Willis is a contributor to Innovative Building Materials. He is a blogger and content writer for the real estate industry. Sam is focused on helping fellow homeowners, contractors, and architects discover materials and methods of construction that increase property value, maximize energy savings, and turn houses into homes.